Antlers Rio Grande Lodge is located on the banks of the Rio Grande River: secluded yet convenient to the historic town of Creede and uniquely situated to serve as your base for unlimited outdoor summer activities. The Lodge's 70 acres border the Rio Grande National Forest, providing unlimited opportunities for summer enjoyment. Popular sports activities include fishing (Rio Grande Angler), hiking, mountain biking, and bird watching. Kids and adults will enjoy petting our farm animals. Facilities nearby offer river rafting (Mountain Man Tours), jeeps, and horseback riding. A beautiful new golf course and clubhouse are within a 30-mile drive. And the Creede Repertory Theatre is one of "10 great places to see the lights way off Broadway"—USA Today.
Antlers is located on the Silver Thread Scenic Byway, a 75-mile drive linking South Fork, Creede, and Lake City. This designated Scenic Byway (Hwy 149) is rich in history, wildlife, and scenic beauty. Another favorite drive is Creede's 17-mile Bachelor Historic Tour, which loops through Creede's historic mining district and ghost towns.
Downtown Creede
In the mood for some small town shopping, relaxation, good food, and amazing views, all on Main Street? Then you've found your perfect destination! Our small businesses are top notch, and it's not a trip to the upper Rio Grande area without stopping by here to check them out. Visit Creede's website at www.creede.com to look for specific places to visit and find a list of the local happenings, including live music, food competitions, historical celebrations, kids' activities, and more!
Quiller Gallery • Rare Things Gallery of Treasures • Zinn Gallery • JThompson Gallery
Ramble House • Rio Grande Angler • San Juan Sports
Blue Yak Salon • Ooh La Spa & Boutique • Turning Aspens Massage
Day Trip! Other Nearby Towns to Visit: www.southfork.org • www.lakecity.com are just down the road and offer more great opportunities for checking out the local businesses, art scenes, and recreational fun, while offering all the conveniences one could desire on vacation.
Fish
Being situated on the mighty Rio Grande River makes us prime territory for both brand-new and widely experienced fishermen (and women!). With some help from the Duranglers, the Ramble House. Rio Grande Anglers, or Animas Valley Anglers, beginners will be excited to set out on a new adventure without worrying about the details, while experienced fishermen will be delighted to take trips tailored to their skills and local recommendations. If you'd rather strike out on your own for a peaceful and solitary trip, feel free to peruse Fish the Upper Rio's website for more information on the numerous river spots, mountain streams, and serene lakes our area has to offer.
Creede Repertory Theatre
The Creede Repertory Theatre is as good as everyone says it is, no further explanation needed. Swing by to catch a show and you won't be disappointed!
Golf
The Rio Grande Club has it all - multiple awards, scenic views, fine dining, and a challenging shot over the majestic Rio Grande River. No golfer can resist this beautiful course!
Raft
No one can resist the pull of the Rio Grande River. One of the most exciting ways to experience it is rafting! Mountain Man Tours offers guided rafting trips, while 8200 Mountain Sports rents rafts, kayaks, and inner tubes to those interested in a float trip of their own.
ATV / 4x4 / Jeeping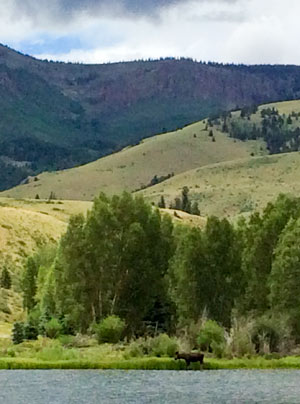 Ready to explore the wilderness on your motor vehicle of choice? With miles of trails to choose from, we have some good times in store for you! Didn't bring your own set of wheels? Head on over to Wolf Creek Jeeps, Cottonwood Cove, or Creede ATV to rent a jeep or atv so that you, too, can enjoy the rugged terrain and awesome views!
Wildlife
Plenty of Mother Nature's favorite animals travel through Antlers and live in the area.
Hike
There's no better way to enjoy the great outdoors at your fingertips (toetips??) than setting out to explore on foot. Our area has hikes for families with small children, hikes for those inclined to wander, hikes for those who prefer to be mountain goats, hikes for the seriously athletic folks, and lots of backpacking opportunities. Check out the Rio Grande National Forest website for a listing of local trails with details on the altitude changes, difficulty level, and possibilities for wildlife viewing. The Continental Divide Trail is another great option nearby.
Horseback Riding
Head out into the wild west on the back of a trusty steed! Cottonwood Cove • Freemon's Ranch