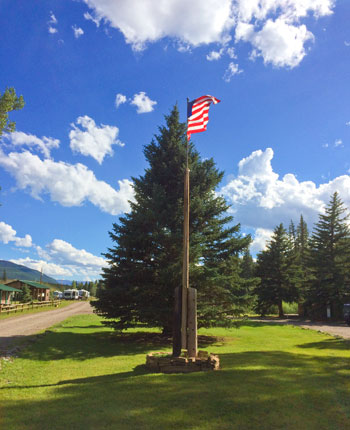 Mineral County is in southwestern Colorado, right along the Continental Divide. We have abundant sunshine year 'round, keeping most winter days pleasant, while our altitude keeps summer heat at bay. Not many air conditioners up here! Day/night temps regularly vary as much as 40 degrees. A really hot summer day for us will see temps in the 80s, but we usually top out in the 70s. Right after sunset you'll feel the cool of the evening.
Overall, this part of Colorado is arid to semi-arid, but the higher mountains get more moisture. Most of this is in the form of snow, and much of it falls in late winter and early spring. In late summer, brief localized afternoon showers are not uncommon. Autumn is almost always a splendid season, especially as the aspen leaves turn gold, usually beginning early in September. For many visitors, and locals, it's their favorite time of year.

Preparing for our Climate
We are located at a high altitude (around 8,600 feet). Visitors to the area may need a day or two of adjustment; usually just relaxing and increasing your fluid intake will help you acclimate to the altitude.
In all seasons, mountain terrain can make its own local weather, and changes can be rapid. Dress in layers, and make sure that you take along warm or protective clothing even on the nicest of days. Our weather is part of the adventure. Sunset brings an immediate drop in temperature that may require heavier clothing.